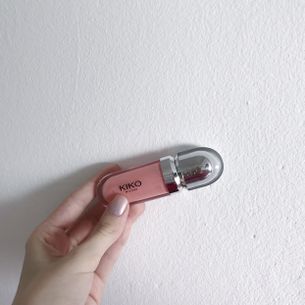 Hi all!
Last week I went to the movies with my best friend. Before the movie started we went to the Kiko store to fill up time. I bought two lip products, a lip gloss and a lip pencil.  Danique made the final decision for me, because i'm that indecisive.


I always get a little overwhelmed when I am in the KIKO store. There are always so many customers, and I see so many things that I want to try out. So normally my reaction is to walk out of the store empty handed, but not this time!
Immediately the day after I tried the lip gloss. After the fail from the last lip gloss I tried , I was prepared for another flop, but I like this one so much. Kiko always does a great job with the packaging, it looks more expensive than it actually is. It is a nice light pink colour with some glitter in it. I think I may have bought a shade to light, but I can work with that. Somehow I can feel the glitters from the gloss on my lips, which makes me uncomfortable, but all together it looks cute.
Do I like the product? Yes.
Would I buy it again? Yes.
Do I want to try the whole KIKO collection? Definitely yes

Hugs and kisses.