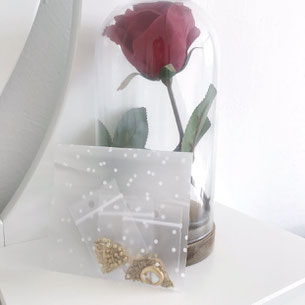 Hi all!

I have exciting news, I have started one of my first real collaborations! You can say that I'm pretty thrilled about it! I have started a collaboration with the brand 'Busy beads'.  They make beautiful jewellery and sell that on their own website.

All their jewellery are handmade,  for me that makes the pieces even more special!

They sent me three pieces of their collection, that I chose myself. WOW!
I chose two necklaces and a pair of earrings. They arrived at my home really soon, three workdays I think.


At first I thought that they would send me one necklace and one pair of earrings. However when the package came in there were three pieces. So I did not understand at all why they sent me something extra, but my silly self just didn't read it right, oops!

The first necklace I'm gonna show you is something I wanted for a really long time. A very subtle choker in gold, with tiny beads. I always thought that chokers look weird on me, so I never really searched for one. I'm so glad that I made that decision to go out of my comfort zone. I absolutely adore this necklace, I think that It will look cute with everything you wear.
Hair up, hair down: It's super classy! One thing I want to mention is that you can't wear it at the pool/shower or when it is really hot, because sadly enough the gold around the tiny beads will come off a little bit. Besides that it is definitely a piece that I will wear a lot!

The next thing I received are this set of earrings. You can choose what kind of beads you want to have on the earrings,  I chose this charm.  I have three piercings in each ear, I love to mix and match. And this is the perfect pair to do that with. Since they have a small charm hanging on the earrings it gives a fun dimension. 

The last thing I want to show you is this necklace. Just like the choker the necklace has tiny beads on them, which makes it perfect to layer it up! Also by the necklace I could choose the charm that I wanted, I chose the horn. I thought it looked awesome, also it is very nicely made. It has the perfect neck length and the charm kind of looks like a croissant when you are standing for away, fun!

What I love the most about this necklace is that it's stainless steel!
Every time I go jewellery shopping  the one thing I look for is stainless steel. It's just perfect because I always wear gold jewels, but I don't have a money tree in my backyard so the real thing is not going to happen. However with stainless steel you almost experience the same thing. The gold on the jewellery stays the same, it maintains its colour when you sleep or shower with it. So you can wear it any time without even thinking about it. Can it be more perfect?

You can shop these items and so much more on their website: https: //www.busybeads.nl/
And you should definitely take a look on their Instagram: busybeadsnl

In the end I really want to mention that 'Busy beads' responds very fast to questions / messages, their tone is always friendly and you can tell that this is their passion. I hope there is more to come!

Hugs and kisses!