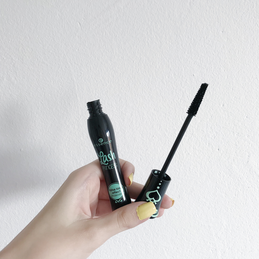 Hi all!
For my first blog I wanted to try a mascara that I'd never tried before. I chose the Essence Lash Princess – False Lash Effect mascara. The Essence Lash Princess is available in three different types; the 'Volume mascara', the 'Sculpted Volume', and the 'False Lash Effect' mascara. I heard a lot of promising things about this mascara and saw good reviews on the internet. It was even sold out in all shops. Eventually I found the one, so it was the perfect time to go and experience.
 

Claim of the product: the product claims that it is a mascara for an irresistible false lash effect and dramatic volume. Doesn't this sound like a dream?
Applying struggles? By the first look at it you can't tell that this is a rather cheap mascara, the package looks cute and sleek. I have to admit that I usually use a type of mascara brush with no soft hairs, so this is completely new territory for me. The struggle started straight away by applying the first layer of mascara. It had an clumpy effect and the more layers I applied the worse it got. I needed a hard clean brush to separate my lashes. This reminded me why I never use this type of applicator. It took some time but after all the result wasn't too bad. 


Experience
Although the mascara has a nice deep black color, the smell reminds me of the clay that I used to play with in kindergarten. Throughout the day the mascara stayed on pretty well, however this mascara is definitely not water and smudge proof. After my powernap there was more
mascara on my pillow than on my eye. When it was time to go to bed the mascara was easy removable.
I also tried the 'Sculpted Volume' from the Lash Princess line, which in fact I like more. It is pretty similar to the 'False Lash Effect' mascara, only this one is easier to apply and separates the eyelashes more. So if I should recommend one type of mascara from the lash princess line, I would definitely recommend the purple one.
Hugs and kisses,
You can get your own 'False Lash Effect' mascara for € 3,39 at Kruidvat.